This was absolutely bizarre.  When I first saw it I thought I was just seeing things, but Ottawa Senators Head Coach Paul MacLean definitely had his doppleganger in attendance at their game against Florida on Monday night.
Seriously, it looks like some bizarre reflection, but it's actually some random guy that could 100% be his clone/twin.
I hope someone finds out where this guy came from.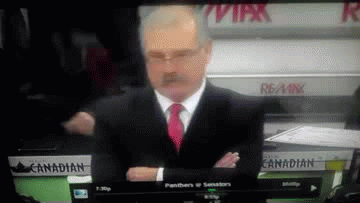 He did get thrown out:

[Puck Daddy Blog] [CBS Sports]
VIDEO: Colton Orr and John Scott square off in a huge heavyweight hockey fight
VIDEO: Red Wings' Damien Brunner with a silky shootout winner
VIDEO: Blues goalie Brian Elliot uses iPad before shootout
VIDEO: Tampa Bay Lightning and New York Islanders have two fights off the opening faceoff
VIDEO: Penguins' Tanner Glass and Rangers' Arron Asham engage in epic middleweight fight